Now in its 17th year the show again delighted approx 700 visitors with a variety of layouts and over 90 sales tables. The sun was out all day and with Real Ale, BBQ, Ice Cream and a Blues band to entertain at lunch time, everyone (hopefully) had a great time.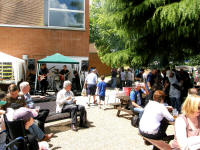 The layouts were spread across two halls with all bar one of the smaller gauges in the Assembly Hall. Here we had David and Judy Holmes with a superb Trix layout which included a working conveyor belt transferring coal from one siding to another.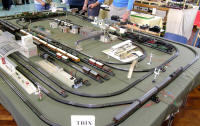 Next to David, Eric Large made a welcome return with his comprehensive Tri-ang TT layout. Every item produced by Tri-ang is on this 8' x 4' set up and it was a delight to see the layout again.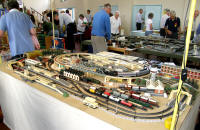 Chris Cheney had a Hornby Dublo 3 rail layout which the public could operate and help raise funds for charity. I saw many young lads operating the Royal Mail TPO set.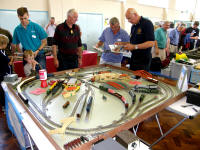 'Here's one I made earlier' is that well known saying from Blue Peter and Steve Knight with help from his son and Ashley had set up a replica of the Blue Peter layout as per the Blue Peter Annual in 1969. This brought back many memories of Christopher Trace, Valerie Singleton as well as Peter Purves to visitors.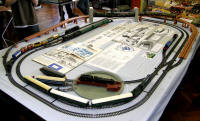 Around the outside were Bob Beokhout and Malcolm Pugh with an excellent large loose lay Tri-ang Series 3 three track layout. This ran beautifully all day and is one of the largest series three layouts I have seen. Also seen running were a pair of Blue Emu's!

This layout also featured the first Tri-ang Roundhouse with ten Engine sheds and six water towers!

Stop Press by the end of the day this had increased to twelve Engine Sheds!! See later photos.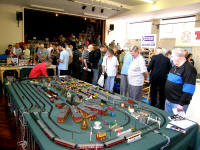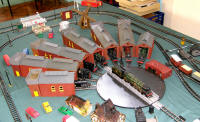 Peter Corish and members of the Brickish Association again amazed visitors with a stunning LEGO layout that had one of the most interesting track arrangements ever seen. A large 30 inch high Viaduct completely made of LEGO took the trains off the tables and back on again. Dave McCarthy's photos will show what I mean.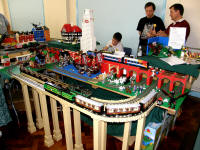 Les Martin, with stock from Neil Bowsher and scenery help from Paul Rees flew the flag for Tri-ang Super 4. Neil's six coach Blue Pullman treated visitors on the high level running for at least five hours and Minic Motorway was also running on high and low level circuits.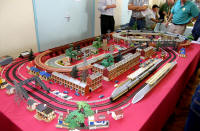 Dave and Karen White had a loose lay Hornby Dublo/Wrenn layout. With a variety of stock and a three canopy station this was a super layout. At one time I spotted two Emu's were running round.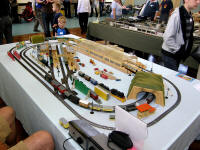 In front of the Stage Peter Gurd had a display of Tri-ang Minic Railways and toys. Included were two rare Mr Perrywinkle sets and some excellent Tri-ang push and go diesel locos.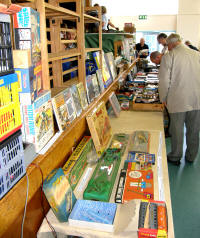 Also in the hall, Tony Stanford and Rod Hannah manned the TCS stand and I understand they signed up 5 new members plus several renewals.
On the stage were four layouts. Clive Gehle had set up a delightful Lone Star Treble-o-lectric layout with lots of accessories, as well as a display of boxed sets. Clive was also running some very late stock which was designed for N gauge running.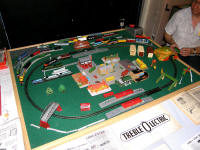 Ray Jones had set up an all electric sixties layout. This was actually a 6x 4 layout using Triang Super 4 track with first issue Triang Catenary over the whole of the track work including points. Ray was running Trix and Tri-ang catenary locos and it was much admired all day.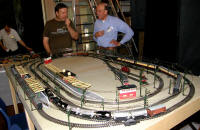 The biggest attraction for the very young visitors was Gary and Pauline Williams son's TOMY layout. This was the largest TOMY layout seen at Alresford and at least 12 Trains and cars and Lorries were running at once. Many parents had a tough time dragging their children away from this layout. One young lad raised the roof twice when his mum tried to take him away!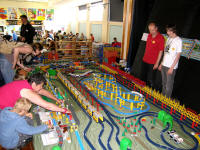 Adam Stratton was operating the Hornby 00 Scaledale layout with stock kindly donated by Hornby. The public were allowed to operate this layout and a steady flow of young train enthusiasts took turns throughout the day.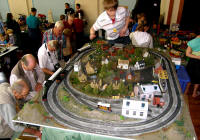 In the Sports Hall the large gauges dominated although Ron Macaskie and Derek Smith with friends from the Chiltern Rail group had set up a large loose lay Hornby Dublo 3 rail layout. With their reputation it was no surprise to see many long trains. A very popular layout.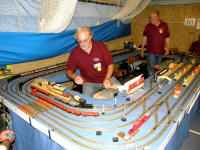 The Bowman circle again showed how well made their engines are with another live steam layout. Many of these engines were built in the 20's and 30's and are still performing well today.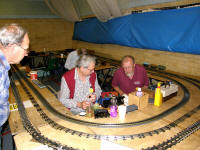 Howard Star-Keddle and John Ovenden with fellow members of the Wessex HRCA group had set up another excellent Hornby O gauge Electric layout. I was particularly pleased to see an Eton running around when I passed by and also spotted a bombed train and German Stuka that had been shot down to compliment the 'War on the Line w/e 'on the Mid Hants Steam Railway.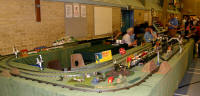 John and Briony Hollands had a super Clockwork O gauge layout running Hornby, Chad Valley and other makes. I was particularly impressed with a tin Shop that looks O gauge scale and is currently available from a gift company full of toffees.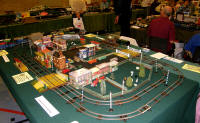 Another treat at the show was Bryan Pentlands three level Tin plate layout using Marx high level track twice to give a triple delight. As usual Bryan had a variety of stock. As I passed a Hachette (electrified) Coronation style engine was running around the top level.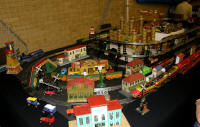 Adam Heeley with help from Bob Boorman were operating mainly Post war Lionel with many of the items now made in China. This was a very colourful layout and was well received.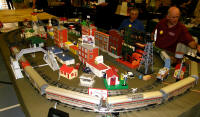 Faller Hit Train produced in the 70's and 80's made a welcome return and Andy and Elaine Hyelman did not disappoint with a four track set up. Several of the trains and scenery are a little quirky but nevertheless this makes for a very interesting display.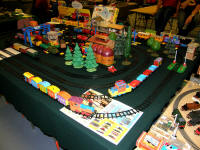 Hidden amongst the traders was Clive Parker with his neat Trix layout.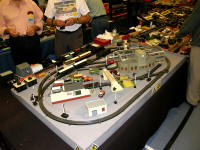 Over ninety traders came to the show with most of them in the sports hall. I understand trade was good considering the current economic climate and many people I spoke to were happy with their purchases. I saw at least two Triang two tone green electric locomotives with new owners and two Australian visitors I understand were pleased with their purchases.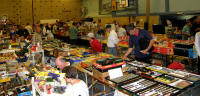 The show also has outside attractions and Richard Pretious and family had set up a large LGB display and were running a huge variety of stock and towards the end of the day ran some live steam.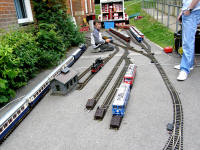 David Lord ran his popular Scalextric corporate layout for charity; The Aldershot and District bus group ran a vintage bus to and from Alresford Station as well as having a sales stand.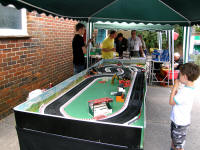 Matt and Ted Hepenstal sold Itchen Valley Real Ale and raised £130 for charity.
'Out of the Blue' Blues band performed a huge number of well known songs during the lunchtime.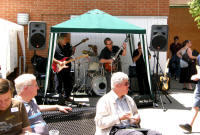 Also at we were treated to a fly past by a Spitfire and Hurricane who also did aerobatics over Alresford and Ropley to celebrate the War on the line event.
Many thanks to Fiona and Claire for organising the refreshments and thanks to Julie, Wendy and Hillary for helping with the refreshments.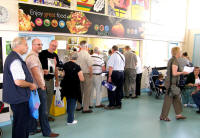 Also thanks to Four Marks Scouts for organising the car parking and Save the Children for doing the door rota. I would also like to thank Rob Yearley who is on holiday from Australian who helped greatly with setting and clearing up.
Thanks to everyone who came to the show, over £1250 has been raised for various charities.
Next years show is currently planned for Saturday June 26th 2010
Bob Leggett, Show Organiser