As we move outside the Court yard was busy with sales stand, Talyllyn Railway group was selling a variety of train related items and the Watercress Line Wagon group was raising money from donated stock.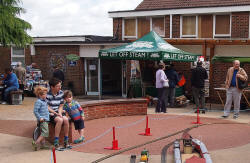 Pride of place goes to Richard Preticous who was running his Swiss and German LBG TRAINS. Despite the showers the trains ran well all day and attacted large crowds in between the showers.
Local Blues band entertain visitors during the afternoon and played Little Queenie which was supported by Queenie and Rob with a Jive.
Alresford Scouts ran the BBQ and served up over 250 burgers/hot dogs .
We now move round to the Sports hall where the larger layouts and sales tables are.

The first layout on the left was the Bowman Circle who had live steam trains running beautifully all day. Many nearly a hundred years old. Many thanks to Owen Roberts and other members.

Bryan Pentland had his tinplate wonderland layout, there is just too much to admire on this layout. Casdon Monorails, a variety of tinplate building, high level trains and low level with several working aircraft accessories. This was a real treat.

New to the show was Oak Lodge School Model Railway Society who excelled with a Tomy layout, Hornby Brimtoy and Chad Valley O gauge layout and several displays. Well done to Andrew Smart and his merry band of helpers. This was a great corner for the many children at the show to enjoy.

Adam Heeley with help from Bob Bormann set up a magnificent large loose lay Lionel Layout with a fantastic arrays of accessories, lots of variety running and hugely admired by visitors.

The most colourful layout at the show was by Andy Heyelman who made a welcome return with his Faller Hit Train O Gauge layout. A very quirky system the was a super layout. I was very impressed with the three card shop displays.

Regulars John and Briony Hollands with help from Graham Bilbe had their lovely Hornby, Mettoy and other makers O gauge clockwork and battery operated layout with a lovely scenic town using tins and other items. I was impressed with a Mettoy battery operated Spam can when I was passing.

Howard Starr-Keddle and members of the Mortimer HRCA group set up their excellent Hornby electric 0 gauge layout. Running a variety of Hornby , Darstead and ACE stock with excellent scenic detail including Tri-ang Spot –On buildings and tri-ang Minis cars. Early Hornby locos and an ACE A4 with several spam-cans were running through-out the day

Clive Parker was again displaying his neat 5' x 3' Trix layout amongst the traders.

As usual the traders had a mixture of success . Several had their best ever and one or two were a little down on last year. General view was most had a respectable day.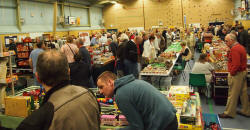 A big thank you to Four Marks Scouts who manned the refreshment all day.
The Raffle for Save the Children raised £300.
Thank you to everyone who was involved in the show, sorry for those who suffered in the rain. Despite the rain the general feeling it was the best Alresford Show
Next Year's show is June 14th 2014
Bob Leggett