23rd Alresford Festival of Toy Trains
As usual many came on the Friday evening to set up and avoid the normal rush hour of layouts being set up against a deadline in the morning. Despite torrential rain overnight, come the morning there was only a dampness in the air which soon left giving us the perfect day for a train show, bright with sunny intervals.
The first visitors were the early birds who sought out the bargains in the Sports Hall as well as from the traders who were outside in the Courtyard.
People travel from quite a distance to the show and by 10.30 there was a large number of people enjoying the Marklin Trains run by Richard Pretious on one side of the courtyard. Richard was running live steam as well as electric trains and had a captive audience all day.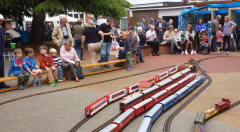 As doors opened a good crowd came straight into the Assembly Hall where the smaller gauges were on display. Members of the Alresford Save the Children Branch were manning both doors and let people in as quickly as possible.
The first layout was a welcome return by Adrian Cassidy who with family and friends including David Holmes had set up a Trix DC layout on original Trix Vono Boards. This was a very busy layout with a fully operational conveyor. A pre-war Trix Coronation (converted to DC) with a full rake of Coronation Coaches, an E3000 and a blue Warship were running when I was there.
Next was John Frankham who had intended to show the new Hornby Digital system, however some technical issues kept the trains running to a minimum on an original Hornby 1970's pre-formed layout.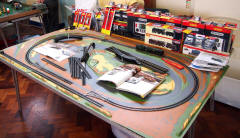 Roger and Barbara Burnish had their wonderful Hornby Dublo 3-Rail layout with some very interesting repaints. I was particularly impressed with an 0-6-2T in Thomas colours pulling Annie and Clarabel. The Station scene was also very attractive.
The Kitmaster Society were displaying the range of models produced in the 1950s and were selling a variety of toy and model trains.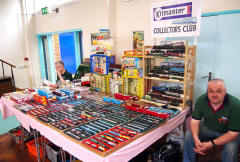 Along the front of the stage was a new layout for Alresford. Kip Bennett and friends has set up Kip's intriguing 1.5m x 4.5m Hornby Dublo 3-Rail layout. This was a fully scenic layout with one very interesting omission. There are virtually no straight rails!!
Appropriately it is called Benton Curlieu and fascinated those who have not seen it before.
On the far wall Peter Corish and fellow members of the Brickish Association had set up Lego trains and a variety of Lego contraptions that kept the public fascinated all day. A huge block of green bricks was also left for visitors to play with. Many were mesmerised by the cannonball run with small balls being transported from one end of the display to the other by various means. However one of the most outstanding items in the hall was the 7' high Lego Tower, I can't imagine how many bricks went into making it-someone will know!
The centre of the room was taken over by the two main layouts. Les Martin and Dave White and friends had set up a 24' x 6'6" layout using Tri-ang Super -4 track and had a Southern Theme. Trains included Neil's Smith's Tri-ang Brighton Belles in blue and cream liveries. Minic Motorway by Neil Bowsher and Model Land set up by Paul Rees completed this wonderful layout. A special scene was created by Les around the engine shed where he recreated an advert for Hovis using five Tri-ang EMU's with the appropriate headcodes.
Not to be outdone Derek Smith and Ron McCaskie with fellow members of the Chiltern Vintage group were running Wrenn on their huge Dublo 2-Rail layout. Some Wrenn collectors were aghast to see what they considered rare Wrenn locos running round with full rakes or even longer goods trains-surely they should be in boxes! I particularly liked seeing 'Lyme Regis' with a rake of eight SR Pullmans.
Next to the Tri-ang layout was a late entry. Andrew Lance had arrived from Wales very early on and asked if I would like to display his recent find. He had an original Tri-ang Shop display layout with Super-4 and Minic Motorway. In need of restoration it was a good talking point and Andrew managed to find several pieces for it from the various traders.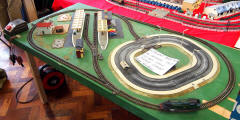 The stage was full as ever with five displays. The centre was taken over by 'Track Party' who were operating a fantastic Tomy layout, with spirals, trains going into and out of Thomas and lots of stop start operations, this was very popular with the younger visitors. No fewer than 13 trains were running at once.
In the corner an old faithful, Brio was continuing to give lots of fun to the very young. The organiser had also set up a table for the visitors to play with a collection of Lone Star 000 push-along, however it was interesting to note that amongst the trains Clive Gehle spotted a rare Minitrix push-along Warship and uncommon Lone Star 2-6-2 in green.
Four Marks Scouts had their early Hornby 00 Gauge Scaledale layout with stock provided originally by Hornby. This was open for visitors to operate and was very popular.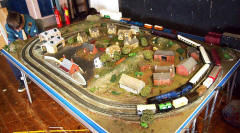 The last layout on the stage celebrated 50 years since the death of Winston Churchill. Nick Gillman, John Bruce and Ray Jones used Nick's Peco streamline layout and ran a replica Funeral Train using a Tri-ang Winston Churchill and adapted stock. What fascinated most people was the large V on the front of the engine, this is rarely seen in photos and came as a surprise to me. Nick also ran an Airfix motorised Biggin Hill with a patriotic train of Red, White and Blue bogie tankers. All that was missing was a Spitfire and Lancaster.
Moving out to the Sports Hall we go through the courtyard which is now busy with the Scouts selling Burgers and Real Ale and from Noon-3pm the Duo Dogwood Flowers were singing songs from the 1960's to present and thoroughly entertained visitors as they ate their food and drink and watched the trains.
The Sports Hall is where all the larger Gauge layouts are and the majority of Sales Tables.
As we enter, on the left Will Temple and members of the Bowman group were having a great time running the full complement of Bowman live steam locomotives from the 1920's onwards. Also seen running was an appropriately named clockwork Marx flyer and a wonderful handbuilt North London Tank by Mike Swain and wooden coaches built by his father -in -law many years ago. A couple of Bassett-Lowke Locomotives were also seen running.
Along the wall we come to Bryan Pentland with his excellent Tinplate Treasures. This year he had a restored three car Kraus Fandor battery converted set running on original extended high level Disney plastic monorail, Bryan also had a Marx electric flyer running round the outside while I was passing, There was lots of Tinplate buildings and accessories to view on this lovely layout.
In the corner Andrew Smart with family and friends had two layouts. The first was a unique Clockwork O gauge layout with a collection of scratch-built wooden buildings including Stations, Engine Shed and Signal boxes, scenery was made using egg boxes and running was Hornby trains, I also spotted a new Station building this year which may have been made from a Hobbies plan.
The second layout was a mix of Lego and Tri-ang Big Big, a very colourful layout with lots of operating accessories and was a great hit with the youngsters.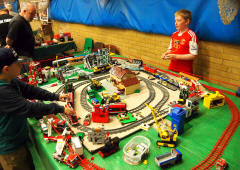 Howard Star-Keddle and fellow members of the Mortimer HRCA group had again set up their Hornby O gauge layout. With a Bayko Village and Dinky vehicles, full signalling and scenic treats all round the layout this was up to its usual high standards. With a Southern theme the scene was complete with a variety of Southern locos from Hornby, Ace and Darstaed on show.
In the middle John and Briony Holland again treated us to their lovely collection of O Gauge clockwork trains with the occasional battery operated loco giving them a rest. A great display of various trains helped make this a popular layout.
Mike Clark was returning after several years away with his excellent Tri-ang Big Big display. One could not miss this layout with the huge poster which gave a good back scene. Mike had all the Tri-ang range on show and running as well as the Hong Kong 'Red Rocket' copy.
Adam Heeley with help from Bob Boormann went Continental with their French and German O gauge layout. French Hornby with a magnificent 'Marseille' station and uncommon early post war wooden bridge and Jep provided the French runners and Marklin the German stock. Adam is a master with scenic detail and I spotted Tin Tin and Snowy waiting at the crossing in bright blue limo
and a Schuco varianto Van running in the centre of the layout, The Tour de France was also spotted on this fun filled layout.
As usual hidden amongst the traders was Clive Parker with his neat Trix layout which once again impressed visitors with the amount one can get into a small space and still make it interesting, no one can say they do not have enough room for a layout!
Traders from all over the country came to the show and general reports were it was a good trading day. Some were similar to last year or slightly down but up on earlier years.
I spotted many punters with full bags and several purchases ended up on the layouts.
During the show the Sun Hill PTA ran the raffle and raised over £300 with prizes kindly donated by Hornby Hobbies and the Watercress Line. The TCS stand was busy most of the day and new members were signed up.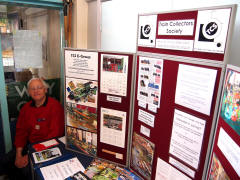 The Scouts and Save the Children received significant donations for organising car parking and the Door Rota. Both Four Marks and Alresford and Cheriton Scouts also raised money from organising the refreshments, BBQ and Real ale.
Thank you to all who came, exhibited, helped and traded as it is everyone together that makes a good show.
Bob Leggett
Organiser
Nest years Show is Sat June 18th (3rd Sat)