Perfect weather brought in the crowds for yet another popular Alresford Festival of Toy Trains.
Click on pictures for full size images
Several new layouts this year plus many new traders made the trip for regulars worthwhile
In the Main Hall the first new layout on show was David Rhodes James Bond themed layout.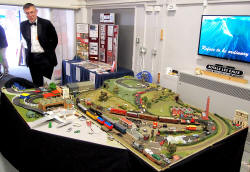 Resplendent in his James Bond Tuxedo David's layout based mainly on Tri-ang Hornby and Minic Motorway with some excellent modelling amazed visitors who tried to spot something from every Bond film.
Many were fascinated with the Minic Motorway cars entering the Aircraft Transporter
Alongside Rod Hannah was manning the TCS information stand with help from Tony Penn and were busy renewing memberships and promoting the TCS.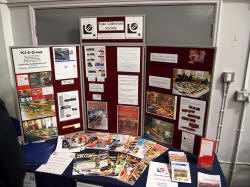 On the right another new layout was Trix by Mark Tewkesbury and his dad, they were running both AC and DC Trix on a neat layout with operation for the many children who visited the show.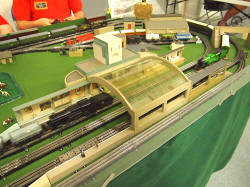 The rest of the side was taken up by the Miller brothers Andy and Steve with their excellent scenic Hornby Dublo 3-rail layout ' I'AD THAT'.
It was their first time at a vintage/ Toy train show and they loved the reaction from the public. Producing many neverwassas including a lovely blue EMU and with many Dublo features electrified this was a very popular layout.
In the middle Les Martin and his team had moved from only Tri-ang to an all makes LNER Main Line layout.
The length was 24' long and used Super 4 track, stock included Tri-ang, Tri-ang Hornby,Hornby, Tri-ang-Wrenn, Hornby Dublo and others including a host of A4's.
Steve Smith set up a Tri-ang-Hornby canopy station and Neil Bowsher's motorised turntable was operating all day, with help also from Dave White and Neil Smith the layout ran smoothly all day.
Also in the middle the Chiltern group had their excellent 24' Hornby Dublo Wrenn 2-rail layout.
I was delighted to see plenty of Southern stock doing the rounds.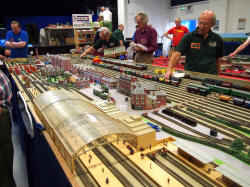 All three of these large layouts were busy with the public admiring the long trains and excellent photo/videoing opportunities.
On the far wall David Lyon was back at Alresford, this time with his relatively new Tri-ang TT Layout.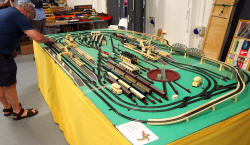 Using almost all the stock Tri-ang produced this was a busy and well liked layout that showed how much more can be accommodated in a 12' x 6' area compared to 00 Gauge.
Next was John Reeves with help from his Granddaughter Anna had set up an early Tri-ang Standard Series 3 00 Gauge layout .
John was very ambitious and had working points throughout. What I loved was the scenic accessories including several rarely seen Tri-ang Penguin town. John had also added many scenic scenes and this was another popular layout for a first timer at the show.
Along side was David and Jan Nevett with their wonderful Gamages London Terminus layout. made for Gamages in 1953 David first showed the layout at Alresford last year.
Since then he has fully electrified the track which was busy with suburban steam and electric stock entering the station from the neatly hidden storage yards which had an excellent display of Wilson lorries above.
The low relief scenery was amazing and included the large Gamages store. Again this layout was popular with the photographers.
In front of the Stage the Marcus Archer with help from Terry from the Kitmaster club were running Airfix 00 Gauge RTR which was launched in the mid 70's, being one of the first of the new breed of 00 Gauge trains that were produced in the far east. I spotted the Wild West and Dr X sets which were running and set up with their accessories. As usual the excellent Kitmaster display was on display.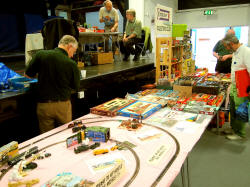 On stage Nick Gillman and John Bruce had Nick's lovely 1960's 00 Gauge layout titled 'Windmill Hill'. What a treat this was for many as Nick had an array of stock by Tri-ang ,Dublo, K's, Anbrico and many others , together with a fully scenic kits and accessories from 1960's manufacturers including a working Faller Windmill, this was a layout that kept showing off the little extra detail.
Also onstage the organiser had set up a Lone Star 000 push-along layout together with a large load of spare items for visitors to play with.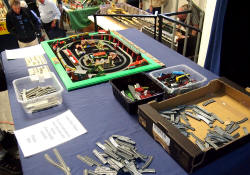 And boy did they, several new layouts were created and the original layout was hugely altered, it was good to see Lone Star being so popular. Also the Brio set came out for it's annual outing and again proved to be a winner with the very young.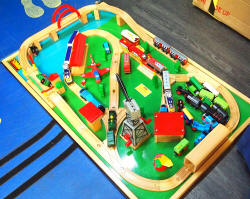 We now move into the new extension which is really called the Lego room. Peter Corish with friends from the Brickish Association had set up a magnificent Lego layout that was just full of detail and three levels of working trains,
I particularly liked the line of shops. Also they had placed a huge amount of green bricks on the table in the middle, it looked like the show had been invaded by a group of architects as by the end of the day several wonderful engineering models had been created.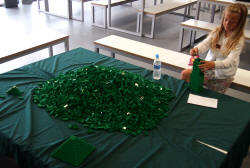 We now move out of the extension round to the Sports hall . As we enter we breath in the familiar aroma of meths and find in the left corner the Bowman circle with their ever popular live steam locos.
Several new family visitors to the show had never seen this before and we amazed how old the loco were and how well they were performing.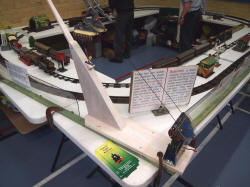 Along the wall Bryan Pentland had as expected a wonderful collection of Tinplate and plastic trains,
including a Walt Disney Monorail, two Casdon Monorails and I even spotted a Lego Airport shuttle, with great selection of tin building and even a Christmas Cable car this was a very popular layout,
As was Adam Heely's layout who had help from Bob running mainly pre American O gauge by Lionel, Marks, American Flyer and others, Adam also had a splendid Lionel hanging car set, working well all day long .
Another returner to the show was James Day with help from Malcolm Pugh running American G scale Trains with 1/24 scale ( not Scalextric) cars. As James enjoys the electric accessories the public were amazed to not only see the cars cross the track but stop for the trains as well. Using Playmobil, LGB and other stock this layout again proved very popular.
Andrew Smart and his model club from Mountbatten School had three layouts this year, all run by the pupils,
they were a Hornby 00 Layout, Tri-ang TT scenic layout and a small O Gauge electric layout. It was great to see the joy the children got from running their own creations for visitors to see it is not just an old man's hobby! Well done Mountbatten Model Club.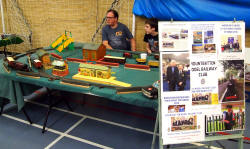 Howard Star Keddle once again co-ordinated the Mortimer HRCA group to run their excellent 0 Gauge layout.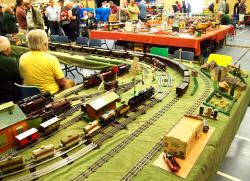 running Hornby, ACE, Darstead and other stock, items were changing constantly
to the joy of the visitors and in keeping with the 'War on the Line' theme at the local Watercress Line there were many wartime scenes including a downed ME109, I was also delighted to see the excellent Spot-On village and Mike Little's Tri-ang Barrage balloon set,
Hidden amongst the Trix Traders was Clive Parker with his tidy Trix layout featuring AC and DC and running pre and post-war stock.
There approx 90 sales tables mostly in the sports hall,some in the main hall and a few outside.
Overall most had an average-good day although at least two had their best ever.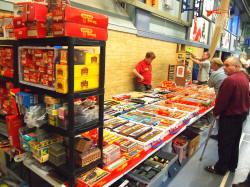 Outside the main entrance Graham Bilbe with help from Harriet and John and Briony Hollands were running Graham's clockwork Gauge 1 trains. It surprised many when Graham told several the oldest was a Bing from 1906! Running on elevated track the old motors coped easily with the small incline.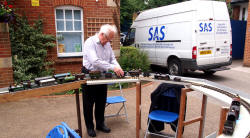 All the trains ran well and no broken springs.
Also outside was the BBQ and Hampshire Ale, Ice Cream and between 12-30-2.30 Craig Miller played live music with many popular tunes on his keyboard.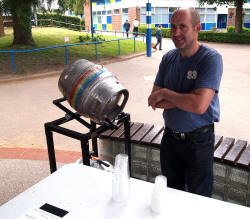 Thanks to both Scout troops for the food, drink and parking help and the Alresford Save the Children group who manned the doors. The raffle raise £100 for Hampshire Air Ambulance with most prizes going to the traders!
The general feel was that the quality of the layouts at the show was one of the best ever and the attendance was also one of the highest.
Thanks to everyone who helped in any way.
Next years show is Sat June 15th
Bob Leggett