Alresford 2008

A report by Bob Leggett the show organiser
Pictures Dave McCarthy
Perfect weather (light rain early with a dry cloudy afternoon) for a train
show ensured a record crowd of over 1000 visited this year's show. Exhibitors really excelled
this year and many comments during the day felt it was the best show yet.

In the assembly hall David Holmes and his wife plus friends from the Trix
society were running pre-war stock and had a very rare Twin City wooden
Station. I also noticed a four wheel WD tender loco to coincide with the War
on the Line weekend on the Watercress Line (more battle scenes later).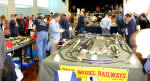 Click on pictures for full size images

Roy Savage and Sandy presented a lovely Tri-ang TT layout with a variety of
stock and Roy also had some items for sale.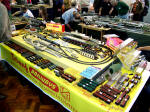 Bob Boekhout and Malcolm Pugh had set up a loose lay Tri-ang series 3
layout. Working from a rough plan a lovely layout appeared in time for the
start. I was particularly pleased to see an L1 pulling a rake of Southern
coaches.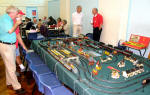 First timers Peter Corish and friends from the Brickish association had set
up a wonderful 12' x 6' Lego layout. This was greatly admired for many
reasons, the stock was fantastic and the layout created by Peter enabled
several working at once. I was particularly taken by a West Country and rake
of Pullmans.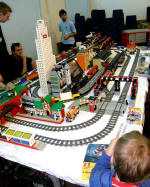 Ashley Barton was on a farewell tour with his exquisite Airfix and Kitmaster
layout with some of the best kit alterations you will even see. Still a
favourite with many it will be said to see it go. It will be broken up in
December and Ashley will be creating a new layout probably for two years
time using some of the original layout buildings.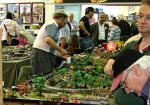 Steve Knight from the Kitmaster Society was also displaying a collection of
made up and unmade models.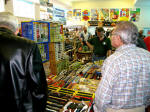 Derek Smith and his merry band of men had a great time with his superb Dublo
2 rail layout. Already one of the best on the circuit Derek is hoping to add
a 6' extension shortly. A Dublo EMU and resprayed West Country were doing
the rounds when I passed by.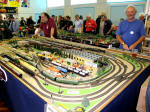 Peter Stenning came inside and displayed his Garden Railway buildings made
of concrete. Using Mamod track and with a variety of interesting stock to
show the items in the correct setting Peter had several potential converts
to the garden.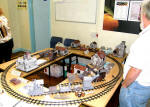 Peter Gurd as usual came with a collection of interesting items, this year
he displayed several 00 gauge Tinplate sets mainly by Mettoy and Brimtoy.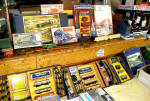 The Train Collectors Society stand was 'manned' by the two Daves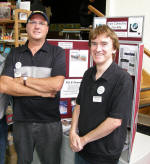 John and Sue Ablett displayed their fantastic Wrenn layout with many
conversions and hundreds of rare accessories from the sixties by Master
Models, Minix, Lesney etc.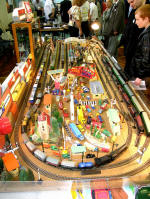 Les Martin and Neil Bowsher flew the flag for Tri-ang Super 4 and had a very
neat 11' x 7' layout with two separate circuits of minic motorway.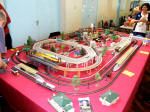 Also running was a Brighton Bell 5-car set converted from Tri-ang Pullmans.
My reproduction Tri-ang Red Rattler set, which had been beautifully
constructed from Miniclassics mould by Neil Smith, was also running.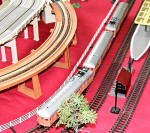 On the Stage we are greeted by Nick Gillman who was running a mixture of
Southern stock on his 6' x 4' layout .I noticed a Tri-ang EMU and an E4
.The set was complemented by accessories from the 60's.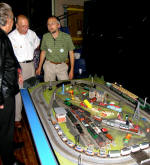 The McWilliams family had set up a fantastic child friendly 12' x 8' TOMY
railway on stage boards with lots of switches for kids to operate. One
mother I noticed in the morning was still there late afternoon-her kids just
loved it.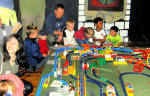 One of the features of the layout was a pair of spirals, I lost
count on how many engines were operating at any one time.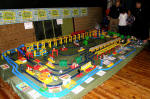 Adam Stratton was tending a modern Hornby Scaledale layout for the public
to control with stock donated by Hornby.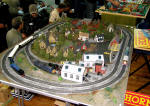 Amongst all this mayhem was Clive Gehle who had a neat Lone Star layout with
both electric and push-a-long examples and Gulliver buildings. Clive also
displayed some rare Lone Star and Linda toy train sets. As I was admiring
this layout next to me was Rob van Teylingen who had come over from the
Netherlands. Rob was delighted to see Lone Star and several other layouts
which he had only ever seen in print.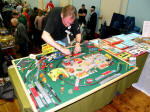 In the Sports Hall the larger gauges were enthralling the public. Owen
Roberts and members of the Bowman circle were having a great time with their
vintage engines steaming all day long.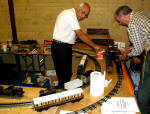 Bryan Pentland had probably the most interesting display with his collection
of elevated railways. Pride of place goes to a Detroit (USA) built Leyland
Monorail. This was built in the 1930's for only two years before the makers
moved on to create Lincoln and Cadillac cars! Bryan had spent hours
restoring this set which ran beautifully all day.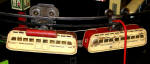 Also a Distler Croc was performing on an elevated line and an American Flyer seven car streamline
set was doing the rounds on the lower circuit. A wonderful display.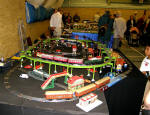 The Draycott family was down en mass and had set up their superb Dublo 3
rail layout. The detail on this layout is fantastic and it is a delight to
view particularly when looking through the 'tunnel' of girder bridges.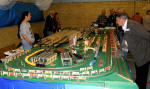 John Ovenden and his troops (Just like the Dad's army models on the station)
had set up an excellent Hornby layout with lighted accessories. To
complement the War theme Howard Starkettle has created a realistic bomb site
(see Dave's pic). I hope those engines will be restored. As well as Hornby,
ACE trains were also helping with the war effort. I did see a lovely A4 in
wartime black.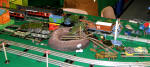 John and Bryony Holland had a 12' x 5' display of smaller O gauge clockwork
and battery trains. As I passed a battery powered black Mettoy 0-4-0 tender
loco was on the inner circuit and a clockwork Hornby No 30 with eight
coaches was doing 4 circuits on one wind.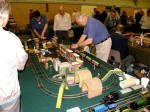 Adam Heeley with help from Bob Boorman was running mainly post war Lionel O
gauge with Kleeware and Plasticville buildings. A very colourful display
which also included a Tramcar shuttle by K Line (which is now part of the
Lionel group). A super layout.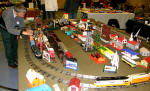 Clive Parker was in amongst the traders with his excellent small Trix
layout.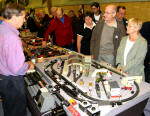 Mike Clark and his partner had the colourful Tri-ang Big Big layout. This
was a nicely constructed set with two passing loops and a variety of working
accessories.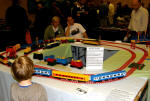 The rest of the Hall was taken over by 91 sales tables. I understand from
brief conversations that most went home contented with the day's business as
the punters bucked the current trend and spent well on the day.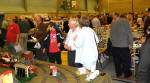 Despite the light rain in the morning there were still displays outside.
Richard Precious had his excellent LGB and Playmobile laid out in front of
the old school house.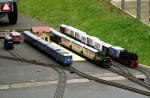 And another star of the show was Mike Slatter with his partner and
sister -in -law with his beautifully restored Tri-ang Minic railway. Mike
ran the engine wit one Pullman coach on the short test track several times
in the afternoon much to the delight of several children. Mike had made sure
no one touch the rails as 36 volts is drawn on the live rails to get the
train moving. Hours have been spent getting this ready for the show and it
was much admired.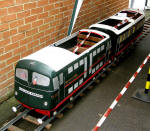 Other displays included David Lord with his four lane Scalextric which is
used for corporate events and Francis Stapleton keep everyone (well most of
us) happy with his mechanical organ.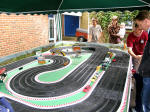 Alresford Rotary produced the best burgers in Hampshire (probably!) and Matt
Hepensatal kept everyone well lubricated with excellent beers from Itchen
Valley Brewery.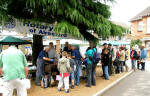 The St John's Ambulance raised over £500 from the raffle and Fiona Leggett,
Claire, Jon and Poppy Whale, Hilary and Wendy kept everyone fed and watered
with a variety of scrumptious home made cakes in the refreshment bar.

Aldershot and District bus group ran a vintage bus from Alresford station to
the show and onto Bamdean Fete.

Thanks to everyone who contributed to the show which raised £1200 for
local charities.


I also believe it was probably the best yet.

Bob Leggett, Show Organiser