Sat 18th June
2011
Alresford's reputation for Sunshine took a bit of a blow this year, two almighty deluges mid afternoon almost finished off James Day, Martin Doubleday and Bob Doorewaard Boekhout
who were operating outside a large Playmobil layout with four circuits of which two could be operated by visitors. With Thomas and James on the rails the children loved it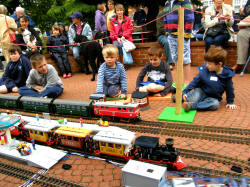 Click on pictures for full size images
and the adults could watch while having a superb burger from Alresford Rotary and music from Blues band 'Watch Out'. The rain however refused to defeat James who kept trains running to the end of the show. Between showers there was no shortage of young operators.
The Assembly hall is where most of the smaller gauges are and along the side wall we had three Tri-ang layouts. Bob Leggett's TT layout on an original Tri-ang display board.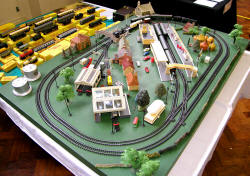 A variety of stock was running including a DMU and Britannia and the layout was operated by Rod Hannah and Chez who were also manning the TCS stand.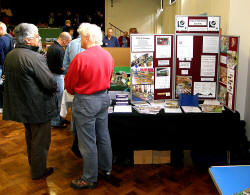 Next was first time exhibitor at Alresford, Mark Hewitt and two friends who were displaying and running Tri-ang Transcontinental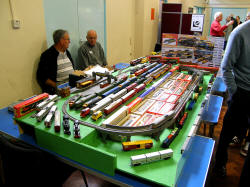 including some interesting ATT models. A pair of Budds were running when I passed.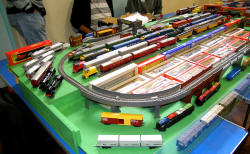 The third layout was by Les Martin who replicated the Tri-ang Primary series layout in Pat Hammonds book (page 122) Les did a great job and many visitors will have recalled receiving a Primary set.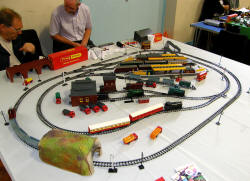 In the middle of the room was David and Judith Holmes new TRIX layout .This was the first time out and I was very impressed, I particularly liked the pre-war wooden station and as usual the operating conveyor belt. Running was mainly pre-grouping stock.
Ron Macaskie, Dennis Smith and other members of the Chiltern group had their large Dublo 2 rail layout for its first showing at Alresford.
This proved very popular and the long Southern themed trains were greatly admired as well as the contemporary non-Hornby accessories which filled the board.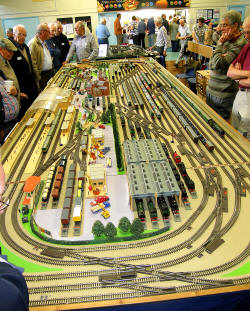 Neil Bowsher was displaying his Hornby Acho, Jouef and Playcraft layout with low and high level operation as well as Minic cars. With a collection of Jouef shops this was a neat layout. Neil's choice of cloth certainly helped get this layout get noticed.
Brian Kirwin brought along his wonderful Dublo 3 rail layout. The aluminium building just glowed and looked factory fresh, his theme was pre-grouping and this was a much admired layout.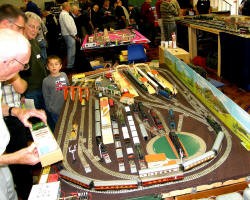 There was a welcome return for Dave Lyon who had his excellent Minic Motorway and Tri-ang Railways layout. It is five years since this layout has been to Alresford and Dave has changed several parts of it and added many new electronic features which the public loved.
Alongside Peter Corish and friends from the Brickish association had set up a triple LEGO layout , I was particularly impressed with the large buildings and tube stock and the harbour scene.
In front of the stage Steve Knight and Marcus had their Kitmaster display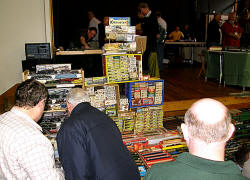 and Neil Smith was interesting Tri-ang collectors with his lovely and much admired Brighton Belle replicas. The blue and grey set looked particularly impressive.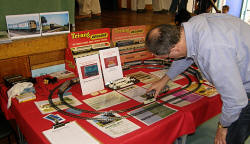 On stage we had the ever enthusiastic Nick Gillman with Ray Jones and ….. running and operating Nick's Tri-ang Industrial layout with standard track. The highlight was the maroon Dock Shunter unloading ore into the Merchant ship. A lovely working accessory which the youngsters particularly enjoyed.
In the middle of the stage Steve Smith with help from Dave White ran Tri-ang Big Big, Several circuits were running and many people commented it's the best they have ever seen Big Big run.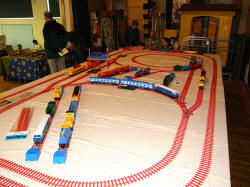 Spotted amongst the locos was a converted ERTL Percy.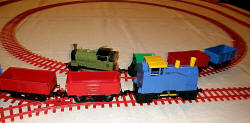 Clive Gehle had two Lone star displays. The electric four piece pre-formed layout complete with buildings and unusual station with cars and accessories and a continuous circuit. And a recently acquired push along layout which showed the wonderful lone star range. With lots of advertising material this was a super little display.
Completing the stage was Bob Leggett's Hornby Scaledale layout which was set up for the public to run all day with stock kindly donated by Hornby.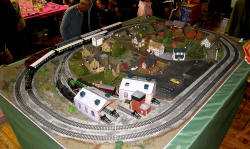 Moving round to the sports hall and avoiding the numerous showers we are amongst the larger gauges. In their usual corner was the Bowman Society which seems to have grown as nine of them had stock running. I was particularly impressed with a maroon 4-6-0 which was steaming along as I passed.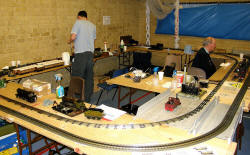 Brian Pentland had an awesome collection of Tinplate trains.
I was most impressed with an Alps electric set Vehicular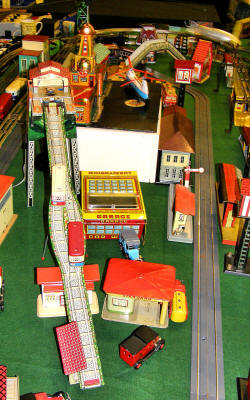 which only just avoided being hit by the circling Zeppelin. With an elevated railway and many working accessories this was a wonderful layout.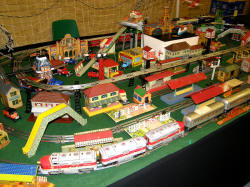 Adam Heely with help from Graham Bilbe was flying the stars and stripes with his excellent Lionel layout with a huge collection of buildings including Plasticville and Kleenware . Trains ran brilliantly and fast all day.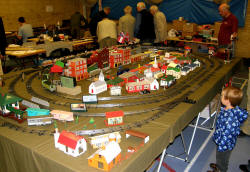 John and Briony Hollands with help from Jack Pieterbrouek ran Hornby clockwork trains with some other maker's battery trains. I was very impressed with the tinplate funfair and collection of tin houses that made up the main High Street. A lovely streamline 3-car railcar was doing the rounds when I passed by.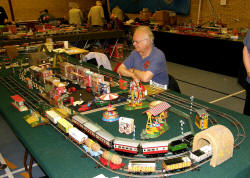 Hidden amongst the traders was Clive Parker with his compact TRIX layout , Clive uses every inch of space with lots of Trix accessories and manages to have a complete Manyways station, It is a superb layout and was a delight to see.
The largest layout was run by Howard Star-Keddle and members of the HRCA.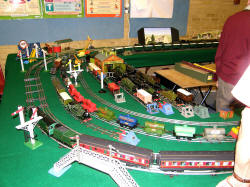 Asked by the author to have a Southern theme they did a wonderful job, stock included Hornby, ACE , Marklin, Darstead and Bassett Lowke. I was also impressed with Howard's Spot-On Cotswold country side series of rubber buildings with street lighting by Mike Allen.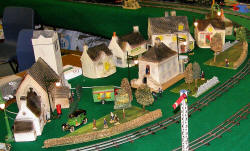 A Marklin 4-4-2 Southern loco and tender no 2037 was pulling a rake of coaches when I was viewing early in the show.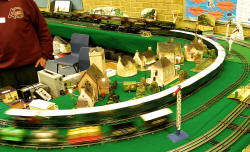 The majority of the sales tables were in the sports hall. At the end of the day most went home happy as it was obvious the collectors had come to buy trains as well as see them.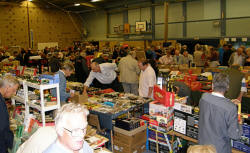 As mentioned earlier the Rotary did the BBQ
thanks also to Four Marks Scouts for arranging the refreshments and co-ordinating the parking on the field which became a quagmire by late afternoon. Also thanks to Claire Whale from Save the Children charity who organized the Door rota. The raffle also raised £460 for the Scouts.
Thanks to everyone who supported the show.
Many thanks to Dave Angell for being my No 2 over the weekend, by spreading the load it helped make the show more enjoyable for the author. Also a big thank you to Dave McCarthy for keeping the web-site up to date and for the photos and video on the site.
Over £2000 was raised for the School, Scouts and Save the Children and other smaller charities.
Bob Leggett