The 20th Alresford Festival of Toy Trains
Perins School 16th July 2012
Please click on photos for larger images
Almost perfect weather (cloudy with a threat of rain) for a train show helped bring in nearly 700 visitors to the 20th Festival of Toy Trains.
The early birds looking for bargains were first on the scene and with over 80 sales tables to choose from there was plenty of choice and from what I heard most of the traders had a good day, many mentioned that the number of transactions was high although the average spend was lower.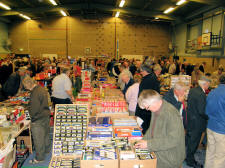 As for layouts, there were a few new ones this year with several changes to regular layouts.
In the Main Hall, David and Judith Holmes had set up their Trix layout for possibly the last time at Alresford. As usual the variety of stock was excellent and I was very impressed with a Nord loco and the rare Rheingold coaches. Many thanks to David for all the displays over the last few years.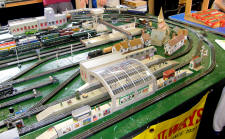 Neil Smith was exhibiting his Tri-ang TC collection with a double track oval to show the stock running. Neil had an example of most of the TC range plus many variations. The colourful display shows why the TC range was so popular.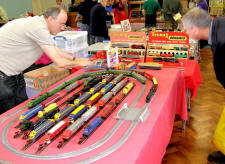 Next door Richard Upton, another first time exhibitor at Alresford had a superb Hornby Dublo 3-rail layout. Very much a purist layout it was however full of running and had all the Dublo accessories. Very much admired. Thanks also to Richard's son and grandson for helping him set up.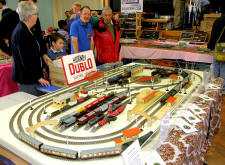 The Chiltern group including Ron MaCaskie and Derek Smith had their excellent large Dublo 2-rail layout and really went to town with lots of West Country locos and suitably long trains drawing the crowds. A great team effort.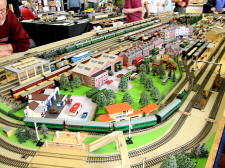 Neil Bowsher was showing his Hornby Acho for the second time and over the last year had added considerably to his collection and visitors enjoyed a two level railway with Minic Motorway in the centre with several continental buildings.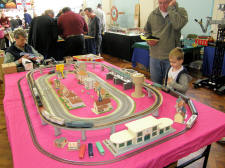 Eric Large was back after a break with his superb Tri-ang TT layout. Probably the best TT layout on the circuit, Eric delighted everyone with the Kays Golden Train and rare Continental stock running throughout the day.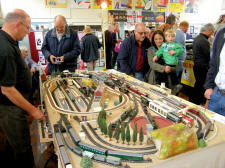 Dave White set up a Tri-ang Super 4 layout with several circuits with the Hornby Dublo Canopy Station that briefly came into the Tri-ang catalogue in cream before the later maroon version. As usual the stock ran well all day and the extra detail such as fencing always makes this layout a delight to view.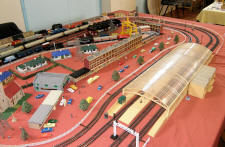 Dave Lyon was running his excellent Minic Motorway with Tri-ang Railways layout. A very popular exhibit with the public who love seeing the cars stopping for the trains and going round roundabouts.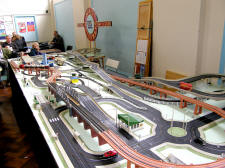 In the far corner Peter Corish and friends from the Brickish Association had a really fantastic LEGO layout with a wonderful selection of new buildings and even a LEGO robot to delight the crowds. The number of viaducts was amazing and I still love the viaduct that takes the trains from one table to another.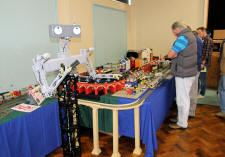 In front of the stage Steve Knight with help from Marcus Archer had set up his excellent Kitmaster display and was also selling a variety of trains.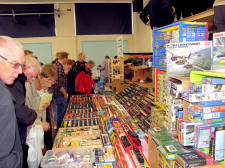 On the stage Nick Gillman with Help from Ray Jones and John Bruce had fun with Nick's Tri-ang 00 gauge Industrial layout using Standard track. One of the main features was an unloading hopper onto a Tri-ang cargo ship. Nick used TC stock and I was pleased to see one of my favourites, a green switcher.
The centre of the stage was taken over by Tri-ang Big Big. Steve Smith was at Alresford for the second time and set up an even better layout with trains running well all day. I particularly like the Hymek Red Rocket set which was issued by Novo.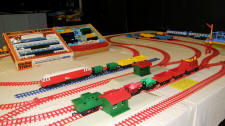 Also on the stage was a Hornby Railways oo gauge ex display layout donated a few years ago by Hornby. This was set up for children to play with and was in demand all day. For the very young, a Brio set was also very much enjoyed.
Also in the hall George Voller was selling items son behalf of the Tallylyn Society. Rod Hannah and Chaz manned the TCS stand and signed up a new member and had several interested in joining.
The refreshment bar was also in this hall and Four Marks Scouts did a tremendous job all day.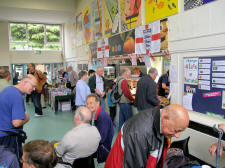 In the Sports Hall we find the larger scale layouts and sales tables. First in the corner is Owen Roberts and members of the Bowman Circle who yet again ran live steam all day long. It was good to see other makes taking part and as I was passing a very sweet Bing loco was pulling a short goods train. I'm sure several visitors did not realised these were actually live steam models!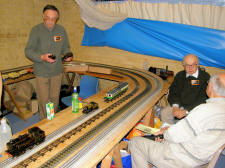 Bryan Pentland once again amazed me with his Tinplate delights. Running two levels of O gauge, a cable car and a tower with Father Christmas trains was almost too much to take in. Not surprisingly this was a popular layout with lady visitors.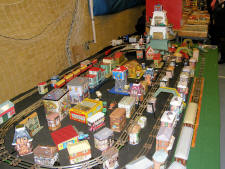 Adam Heely with help from Bob ….had set up a full-on Lionel Layout with working accessories, noise emitting locos and plenty of buildings to delight old and young visitors.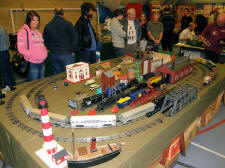 Ashley Barton was running his much altered Lima O gauge. Ashley is a wiz with kit building and conversions and had created a wonderful town scene by expanding oo gauge Bilezzi sheets to O gauge. He had also converted several locos and stock and had a very interesting selection of figures around his layout including a Tardis and Dr Who that kept changing location.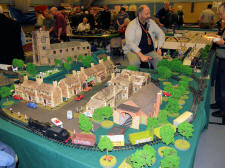 Graham Bilbe, another first time exhibitor , with help from John and Briony Hollands had an O gauge clockwork layout, and used stock from several manufacturers including Hornby , Mettoy, Chad Valley and others, another very colourful exhibit.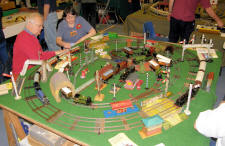 Howard Starr-Keddle and fellow members of the HRCA had set up a large electric O gauge layout predominantly running Hornby however Darstaed, ACE and Bassett Lowke were all seen running. Scenery included the full range of the Tri-ang Cotswold series of rubber buildings. As I was passing it was a perfect photo opportunity to catch a Hornby SR passenger train.
David Lord added another type of attraction with his professionally built Scalextric four lane circuit which was popular all day long with visitors able to compete in ten lap races.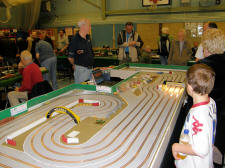 Amongst the traders Clive Parker had his excellent TRIX layout which ran well all day.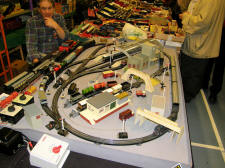 Claire Whale from the Alresford branch of Save the Children arranged the door rota and also raised £316 selling raffle tickets for a medical centre in Bangladesh.
Outside, although no trains this year due to the forecast of rain (which came at 5pm) 'Watch Out' a local Blues and Rock n Roll band entertained diners who were enjoying the Alresford Rotary BBQ. Thanks also to Four Marks Scouts for organising the car parking
Thanks to everyone who helped make the day a success. Final thanks to Dave McCarthy for uploading his photos so quickly and my report. Next year the 21st show will be on Sat 15th July